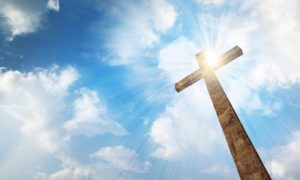 I have good news.
The gospel, "the Good News" as presented in the Bible …
• God Created you, loves you, and wants to have a personal relationship with you
"Everyone who is called by My name, And whom I have created for My glory, Whom I have formed, even whom I have made." (Isaiah 43:7)
"I have loved you with an everlasting love; Therefore I have drawn you with loving-kindness. (Jeremiah 31:3)
• God is holy and cannot coexist with sin. Therefore our sin keeps us from a personal relationship with Him
"Your eyes are too pure to approve evil, And You cannot look on wickedness with favor. (Habakkuk 1:13)"
"But your iniquities have made a separation between you and your God,
And your sins have hidden His face from you so that He does not hear. (Isaiah 59:2)
• Sin is universal to all men and ultimately is the cause of our death
"for all have sinned and fall short of the glory of God" (Romans 3:23)
"For the wages of sin is death, but the free gift of God is eternal life in Christ Jesus our Lord" (Romans 6:23)
• God sent His son Jesus to die as a divine punishment for sin, as our substitute. His death eliminated the barrier that separated sinful man from a holy God. Jesus' death sets us free to have a relationship with God, completely forgiven and reconciled
"All of us like sheep have gone astray, Each of us has turned to his own way; But the Lord has caused the iniquity of us all To fall on Him (Isaiah 53:6)
"For God so loved the world, that He gave His only begotten Son, that whoever believes in Him shall not perish, but have eternal life. "(John 3:16)
He made Him who knew no sin to be sin on our behalf, so that we might become the righteousness of God in Him. (2 Corinthians 5:21)
"and He Himself bore our sins in His body on the cross, so that we might die to sin and live to righteousness; for by His wounds you were healed. (1 Peter 2:24)
• Receiving Jesus' payment for our sin, by faith, is necessary for a man to be saved.
"But as many as received Him, to them He gave the right to become children of God, even to those who believe in His name" (John 1:12)
"Believe in The Lord Jesus and you will be saved…" (Acts 16:31)
8 For by grace you have been saved through faith; and that not of yourselves, it is the gift of God; 9 not as a result of works, so that no one may boast. (Ephesians 2:8-9)
• Saving faith is to transfer your complete trust, from self-reliance to God; that God has forgiven you and given you a personal relationship with Him, through the death burial and resurrection of His Son, Jesus.
"Now I make known to you, brethren, the gospel which I preached to you, which also you received, in which also you stand, 2 by which also you are saved, if you hold fast the word which I preached to you, unless you believed in vain.3 For I delivered to you as of first importance what I also received, that Christ died for our sins according to the Scriptures, 4 and that He was buried, and that He was raised on the third day according to the Scriptures"…
20 …now Christ has been raised from the dead, the first fruits of those who are asleep. 21 For since by a man came death, by a man also came the resurrection of the dead. 22 For as in Adam all die, so also in Christ all will be made alive. (1 Corinthians 15:1-4; 20-22)
It is Christ alone, that save us from our sins and gives us eternal life – If we have faith in Him.
If you would like to express your faith in Jesus  (faith is the action of commitment), for your salvation (forgiveness of sins and reconciled into a personal relationship with God), simply bow your head in prayer and ask God for his forgiveness by confessing your sin, and your need of him.
I recommend you do that right now.
And this "model" prayer, below, will help you get started…
"Heavenly Father; I confess that I am a sinner and that has kept me from a relationship with you. I understand that Jesus died for all sins, including mine. I want to have my life changed through a relationship with you.
Therefore, I ask Christ, now, to be my savior and apply the effects of His death on a cross, as punishment for my sin, to provide me with forgiveness of sins, and an eternal relationship with God.
Thank you, Holy Father, for the gift of eternal life. I receive it now by faith and in gratitude.
In Jesus' name; amen."